Deaths on motorcycles occurred 27 times more frequently than any other vehicle in 2014, according to the National Highway Traffic Safety Administration. However, 59 percent of those motorcycle deaths involved other vehicles. The vulnerability of motorcyclists prompted the NHTSA to launch an entire PR campaign aimed at promoting awareness to all motorists to "share the road."
When a driver in this case failed to heed this advice, a rider was smashed off his bike, and suffered severe pelvic fractures to his pubic bone that would limit his mobility and quality of life. Brent Sumner, Esq., needed to illustrate for a jury what these painful damages actually looked like.
Mr. Sumner sent us black-and-white x-ray and CT scans of the plaintiff's brutally fractured pelvis. We highlighted the areas of damages using illustration and color to familiarize jurors with the injury, and focus their attention on the severity of fractures. Color Diagnostics make radiographic scans more recognizable, and help jurors see a clear picture of a person's injuries in realistic color.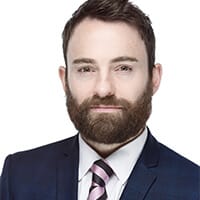 The image showed the jury how substantial the fractures were and gave a great visual aide to the discussion on the pain and limitations related to this injury. It was easy working with High Impact on this case and I would highly recommend them. You should contact High Impact early in discovery so you can use the High Impact exhibit with your treating doctors.
We colorized the films to highlight the severity of the plaintiff's pubic fracture, and help jurors recognize the injuries in otherwise ambiguously black-and-white films.
The Color Diagnostic helped jurors understand, and sympathize with the damage caused by the MVC. They awarded a $1.75M verdict to the plaintiff while sending a reminder to other drivers of why to "share the road."
High Impact's team of visual strategists, artists and developers can build and customize your digital presentation for any case involving personal injury, medical malpractice, birth trauma - or any subject involving complex information.
Interested in working with us? Click here to get started. If you'd prefer, you can email us or call us at (800) 749 2184.