When a pulmonary embolism was misdiagnosed as pneumonia, attorneys Darryl Lewis, Esq., and Jack Scarola, Esq., needed to show why medical providers were liable for their client's stroke, brain damage, and bilateral blindness. We prepared their team with an arsenal of exhibits to help convey every strategic angle to their case:
The case resulted in a $16M verdict for Mr. Lewis and Mr. Scarola's client to help reimburse his resulting medical costs and suffering.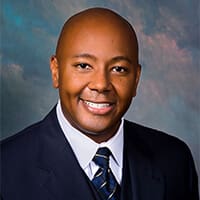 The High Impact team helped make complicated medical issues very simple for the jury to understand. The demonstratives created a perfect visual demonstration of our theory of the case. The High Impact team was an important & intricate part of the entire team that helped us achieve a $16M jury verdict in our case. Their entire team was amazing.
Exhibit A: Animated Mechanism of Injury
It would have been difficult to explain in words what caused a pulmonary embolism and how the pulmonary embolism resulted in the patient's stroke. 3D animation helped simplify complex issues and make clear what happened. The first animation demonstrated how the patient's pulmonary embolism resulted from a blood clot that traveled to the lungs from the patient's leg. It concludes with colorized radiographic evidence of the extensive bilateral pulmonary emboli medical providers should have noticed.
After establishing that the pulmonary embolism clearly existed, the next animation shows the misdiagnosed condition escalated to a stroke and irreversible brain damage. It also includes with colorized radiographic evidence showing exactly where the patient's brain was injured.
The animations helped attorneys lay the foundation for liability and anchored the jury's understanding of these complex chapters with powerful visuals they would remember throughout the legal proceedings.
Exhibit B: Colorized Radiographic Damage
Color Diagnostics use color to highlight details in black-and-white radiographic films, and can be used on MRI's, X-rays, and CT Scans. This example was used to illustrate the extreme difference between a pulmonary embolism and pneumonia.
Color Diagnostics® make radiographic films recognizable to juries, and in this case, they helped familiarize jurors with why doctors should have recognized this as a pulmonary embolism - not pneumonia.
Exhibit C: Diagnosing Depth of Damage
The Diagnostic Slice Chooser adds even more context and understanding to radiographic films. After we colorized the patient's CT scans and MRI's at different depths, we layered them within a 3D model of the patient's body and head. The Slice Chooser gave attorneys complete interactive control over the delivery of these 3D exhibits and helped familiarize jurors with exactly where these damages occurred in the body.
The interactive exhibit helped attorneys establish the misdiagnosis with maximum three-dimensional context that jurors could easily understand and remember. We can customize the Diagnostic Slice Chooser for any exhibit involving multiple layers of radiographic evidence.
Exhibit C: Charting the Path of Negligence
After establishing how the irreversible damages occurred, this Pathways Charts demonstrated how easily this tragedy could have been avoided had the Defendant not chosen to violate the Standard of Care.
The pathways chart helped simplify a seemingly complex problem down to the decision point that would have prevented the injury.
High Impact's team of visual strategists, artists and developers can build and customize your digital presentation for any case involving personal injury, medical malpractice, birth trauma - or any subject involving complex information.
Interested in working with us? Click here to get started. If you'd prefer, you can email us or call us at (800) 749 2184.