Seven years after a woman underwent surgery to address a spinal injury from a vehicle collision, two metal screws broke in her back. The hardware would need to be removed, replaced, and expanded - but her insurance company refused to pay for a new surgery.
Attorney Michael J. Delay, Esq., needed to show why the insurance company was responsible for financing a new surgery by illustrating the progression of damages, and the procedure that would help her fully recover. We delivered:
Color Diagnostics showing the progression of the woman's spine from her initial injury to the current hardware defect.
Surgery Illustration showing the necessary procedure for removing, replacing and expanding the spinal hardware up one more vertebrae.
The following exhibits helped triple the value of Delay's undisclosed settlement, and afforded the plaintiff more than enough to pay for her her new surgery.
The exhibits used during deposition were a great asset. The treating doctor also liked the exhibits prepared in advance because they added focus, clarity, and a wow factor! Thank you very much for all of your hard work.

Michael J. Delay, Esq., Spokane, WA
Colorized Injury, Surgery, and Defect
This Color Diagnostic exhibit highlights three radiographic snapshots in time: the initial injury from 2008; the completed hardware after surgery in 2011; and the defective screws highlighted in red in 2014. Adding color and illustration to radiographic images adds familiar context and brutal realism to otherwise ambiguous black-and-white films. This Color Di helped anchor Delay's argument for why the woman's hardware defect was connected to her initial collision, and why she deserved a corrective surgery to fix the new issue.
Illustrated Corrective Surgery
Once Delay had established why his client's insurance should cover her surgery, this exhibit was used to illustrate the fixation procedure she needed, which would replace the defective hardware, and expand it up to the L3 vertebrae. Surgery illustrations simplify and explain complex procedures, capture the totality of a patient's experience, and anchor the audience's understanding of the case with a strong visual they will remember.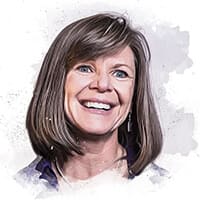 Surgery illustrations simplify complicated surgical procedures, capture the totality of a victim's experience, and show the implanted hardware victims will have to live with for the rest of their lives.

DARLENE GARBER - VISUAL MEDIA STRATEGIST
Darlene is High Impact's Denver-based Visual Media Strategist who has experience working with all types of catastrophic injuries not just at High Impact, but as a former firefighter paramedic with advanced medical training. She yields an insider understanding of the healthcare industry's standard of care procedures, and she will insure your case is coordinated properly and delivered on deadline. Contact Darlene.
High Impact's team of visual strategists, artists and developers can build and customize your digital presentation for any case involving personal injury, medical malpractice, birth trauma - or any subject involving complex information.
Interested in working with us? Click here to get started. If you'd prefer, you can email us or call us at (800) 749 2184.