After a drunk driver in a Ford Explorer crossed into oncoming traffic and smashed into a Buick Lesabre, leaving it helplessly idle in the middle of the road with its lights off; a semi-truck approaching from the opposite direction collided with the wrecked vehicle minutes later. The combination of collisions left the family inside with severe injuries, and sent a young child into intensive care. Litigators were faced with the question of whether the truck driver could have avoided the second collision, and whether he shared responsibility for the injuries.
The truck driver claimed he reacted appropriately, traveling below the speed limit and taking immediate action as soon as he saw the car. Attorneys Morgan Adams, Esq., of Truck Wreck Justice and Timothy T. Sempf, Esq., of NGSW&B needed to show how he would have been able to spot the vehicle and easily avoid the accident, had he not been driving faster than his low-beam headlights would allow him to see in the dark.
The truck driver admitted to switching his headlights from high to low beams as he passed the demolished Explorer on the side of the road, but evidence showed he maintained a speed of 53-54 MPH. The truck's high beams illuminate 500 feet, but its low beams only illuminate 250 feet. At 54 MPH in the dark, how much of a difference does that 250 feet make in avoiding this collision?
Animation is the most effective way to answer this question. We created three animations that would establish what happened, and demonstrate how this collision could have avoided if the Defendant would have either switched to low beams or slowed down. All the data for these animations was compiled from accident reconstruction reports, police reports, Google Maps, and commercial vehicle tracking devices.
The following animations helped Mr. Adams and Mr. Sempf demonstrate and how this tragedy could have been avoided had the driver either slowed down or simply maintained the high beams appropriate for his high speed. The Defense settled for $6.7M.
Exhibit A: What Happened?
The first animation establishes what happens as the Defendant approaches the Defendant, and allows viewers to evaluate his decisions.
As the semi-truck approaches the scene, the driver switches from high beams to low beams while maintaining 53-54 MPH. Animation shows how a 250-foot field of vision at that speed made it impossible to avoid a collision, and the 700 feet the truck travels past it emphasizes how hard he plowed through the impact.
Exhibit B: What If He Used High Beams?
The next animation demonstrates the driver's expanded field of vision had he maintained his high beams. It shows how 500 feet of light at that speed would have clearly illuminated the vehicle ahead with enough time to easily avoid the collision.
Animating the alternative scenario puts mathematical hypotheticals into a visual context that's easy for people to see and understand.

Jeremiah Flyer, Lead Forensic Animator
Exhibit C: What If He Slowed Down?
The third animation shows how the truck driver could have also avoided the collision had he slowed down to the appropriate speed for his low beams' field of vision.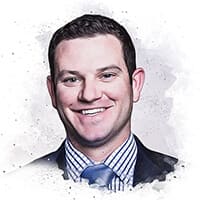 Animations help prove liability by accurately demonstrating that a collision was clearly avoidable. When an audience is able to objectively evaluate a defendant's actions, they can more easily conclude why they were blatantly negligent for the incident.
Nick Maguire is High Impact's Florida-based Digital Media Consultant who brings an extensive background working in forensic analysis and expert witness consulting across the fields of engineering, architecture, product liability, environmental remediation, accident reconstruction, and personal injury. He understands what details are most important to reinforce your case, and he will ensure your exhibits are accurate, compelling, and fully admissible. Contact Nick Maguire to learn more.
High Impact's team of visual strategists, artists and developers can build and customize your digital presentation for any case involving personal injury, medical malpractice, birth trauma - or any subject involving complex information.
Interested in working with us? Click here to get started. If you'd prefer, you can email us or call us at (800) 749 2184.