After a driver smashed into the back of a woman's car, resulting in severe cervical disc protrusions, attorneys Sevy Fisher, Esq., and Conal Doyle, Esq., needed help illustrating to a jury why the victim deserved full compensation for her injuries.
The Defense dismissed her damages, claiming she was a "fraud" and a "cheat." The highest amount the insurance company was willing to offer was $250K. Mr. Fisher and Mr. Doyle needed to show a jury why their client deserved more.
When the Defense tries to downplay the severity of your client's damages, the best offense is to make these injuries as front, center, and simple as possible for a jury to understand.
We colorized X-ray scans of the plaintiff's spine - before and after surgery - to highlight the Plaintiff's painfully obvious disc protrusions and the interbody prosthesis that was screwed into her spine. We also illustrated the step-by-step procedure required to install the hardware that would remain inserted into her skeleton for life.
The visuals shocked even the Plaintiff herself, said Mr. Fisher, and made her feel confident that she had every right to attain the monetary means necessary to help in her recovery. The exhibits also compelled the jury to award Mr. Fisher's client a $700K verdict - almost three times the Defense's largest offer.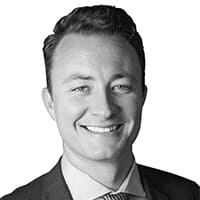 The insurance company held tough, never offering more than $250K, even when the judge told them it was worth more. They called her a liar, a fraud, and a cheat. What High Impact delivered shocked even her to see these images, and made her feel comfortable that she was definitely not suing frivolously, and understand she had every right to attain the monetary means necessary to help with her recovery.

Sevy Fisher, Esq., The Simon Law Group
Exhibit A: Color Diagnostics
In the first exhibit, our artists colorized the victim's radiographic films to highlight the disc protrusions and disc replacement in realistic, recognizable color.
Exhibit B: Medical Illustration
This exhibit illustrated the cervical discectomy and disc replacement, helping to simplify and explain the step-by-step surgical procedure the victim required, which helped jurors understand the totality of the victim's experience.
High Impact's team of visual strategists, artists and developers can build and customize your digital presentation for any case involving personal injury, medical malpractice, birth trauma - or any subject involving complex information.
Interested in working with us? Click here to get started. If you'd prefer, you can email us or call us at (800) 749 2184.