When a driver smashed into another vehicle, causing the two cars to skid into a median, bounce off, and smash into each other again; the collision sent a 62-year-old man into the emergency room with a fractured knee that devolved into a degenerative disease in his foot.
Attorney Brad Cundiff, Esq., of Coyne, Cundiff and Hillemann, PC, could easily prove liability through an invesitgation of the scene, property damage, and testimony of other drivers. A foot and ankle expert also linked the plaintiff's degenerative disease to the knee injury from the collision. However, defense attorneys claimed both vehicles involved were at fault for being too close to the line, and disputed claims that the degenerative disease was related to the crash. The most they were willing to offer was $40K.
Cundiff asked High Impact to:
Show the plaintiff's knee injury in realistic detail.
Demonstrate how the knee injury caused the degenerative disease.
Illustrate the degenerative disease in the plaintiff's foot.
Capture the totality of the plaintiff's surgical experience.
Cundiff returned an $800K verdict for his client - 20 times the defense's biggest offer - using the following illustrations.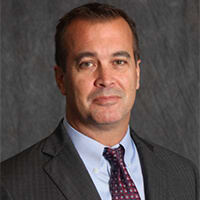 When I focus-group my cases, the participants always talk about how helpful the exhibits are. Medical testimony is usually pretty dry and the illustrations are always what makes the doctors explanation understandable.

Brad Cundiff, Esq., Coyne, Cundiff and Hillemann, PC, St. Louis, MO
Exhibit A: Colorized X-Ray of Knee Fracture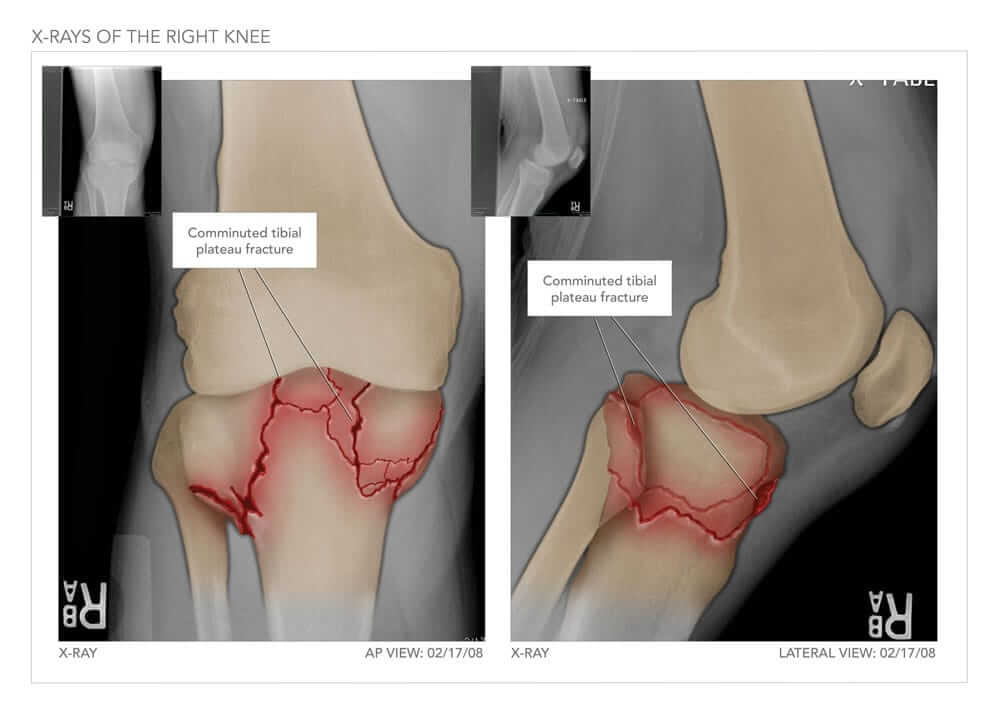 This Color Diagnostic exhibit highlights the patient's severe comminuted tibial plateau fracture from anteroposterior and lateral perspectives. Adding color and illustration to radiographic images adds familiar context and brutal realism to otherwise ambiguous black-and-white films. They also help jurors understand the painful depth of underlying injuries.
Exhibit B: Connecting a Knee to a Foot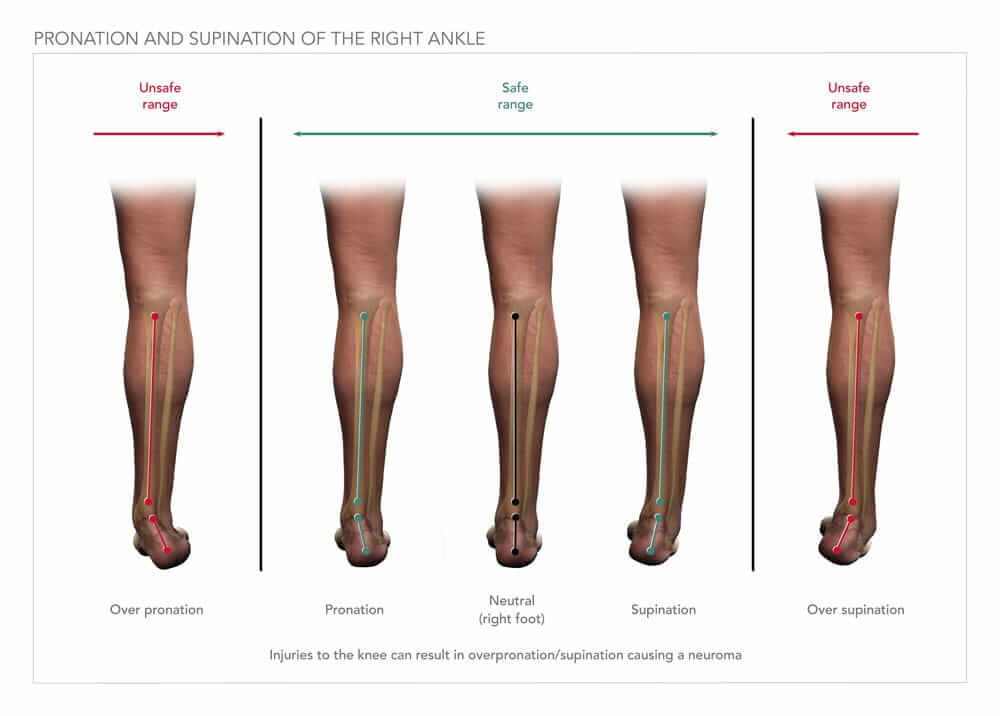 After Cundiff had anchored the jury's understanding of his client's knee injury with a graphic visual, he needed to connect that injury to the degenerative disease in his client's foot. This exhibit reinforced his ankle expert's testimony. It illustrates how injuries to the knee can result in overpronation and supination of the ankle - leading to neuroma, a painful condition that swells nerves in the ball of the foot. Visuals are proven to increase juror understanding of complex issues, and enhance long-term memory of information.
Exhibit C: Illustrating Degenerative Disease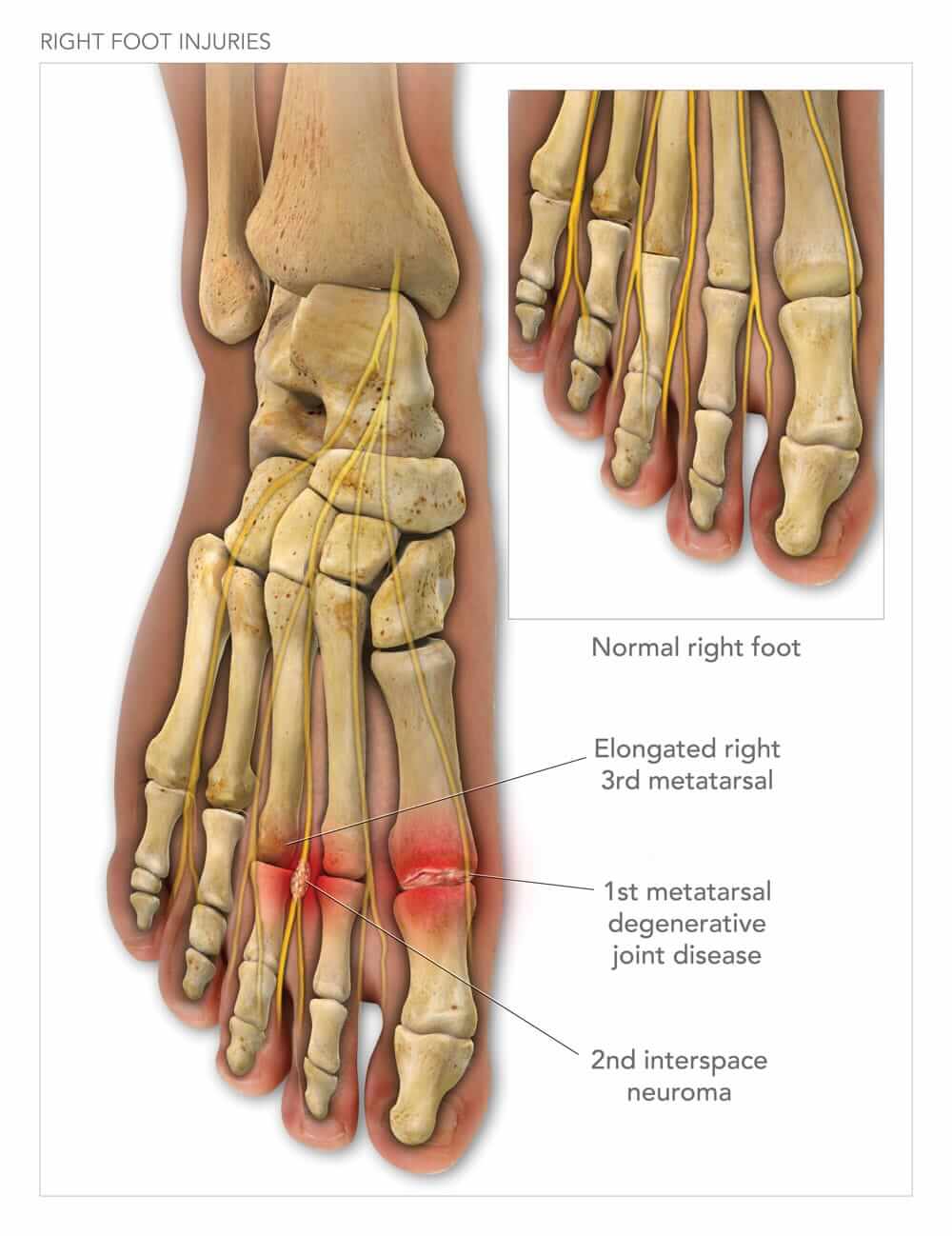 Once Cundiff had established the link between the knee injury and the degenerative disease, he needed to show a jury what the damages from that disease looked like. Illustrating the overall depth and magnitude of catastrophic injuries clarifies complex issues, while anchoring the audience's understanding of the victim's damages with a powerful visual they'll remember.
Exhibit D: Capturing the Surgical Experience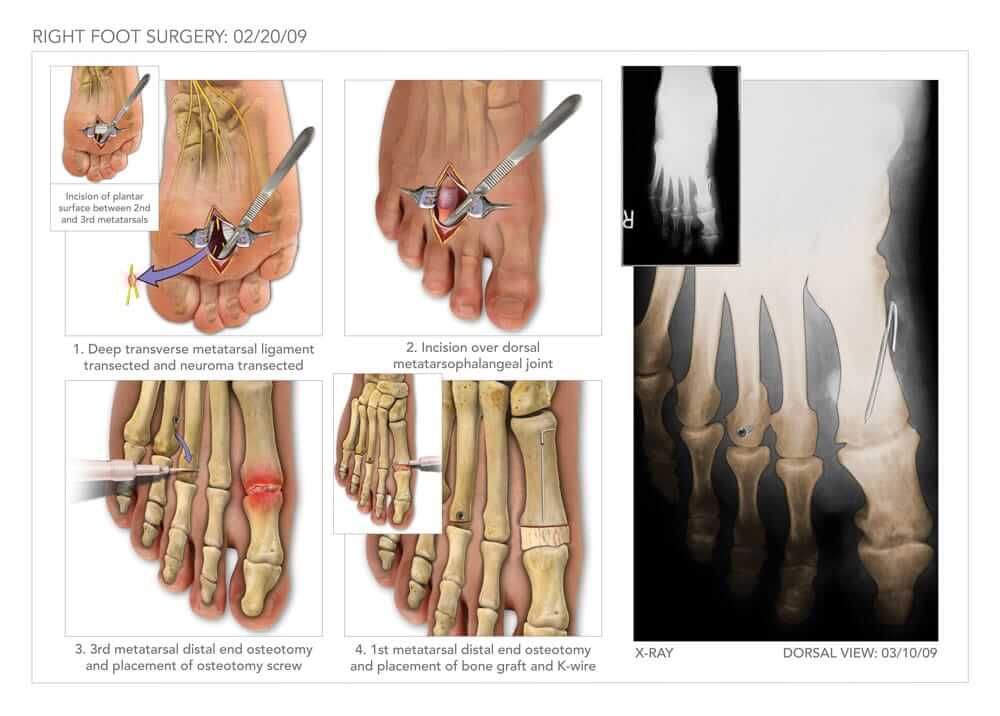 After illustrating the damage to his client's foot, Cundiff needed to show the surgery needed to repair it. These illustrations simplified the complex procedures, while capturing the totality of his surgical experience, which involved an incision on the bottom of his foot and the placement of hardware he would live with for the rest of his life.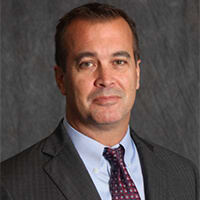 I have worked with Tyler and High Impact about half a dozen times. Each time, I give Tyler an idea of what I want to prove, and he has always exceeded my expectations.

Brad Cundiff, Esq., Coyne, Cundiff and Hillemann, PC, St. Louis, MO
Tyler is High Impact's Denver-based visual strategist whose goal is to provide clients with an exceptional work product while facilitating a positive, responsive experience. With an extensive background in litigation, graphic design, and strategic presentation, Tyler thrives in providing clients with the most effective visual media solutions possible. Contact Tyler.
High Impact's team of visual strategists, artists and developers can build and customize your digital presentation for any case involving personal injury, medical malpractice, birth trauma - or any subject involving complex information.
Interested in working with us? Click here to get started. If you'd prefer, you can email us or call us at (800) 749 2184.