When a truck driver took his eyes off the road to search for a lost apple, his tractor trailer crossed into oncoming traffic and smashed a vehicle to the side of the road, where it was struck again by a second tractor trailer and burst into flames.

The victim sustained numerous catastrophic injuries, including multiple fractures, lacerations, and brain damage. His long road to recovery included a femur nailing, a wired jaw, an ORIF of his foot, and a metal implant in his fractured eye socket.

Attorney Caroline Munley, Esq., represented the plaintiff in filing suit against the two trucking companies, and needed help illustrating the magnitude of damages her client suffered as a result of the two collisions.
We built Ms. Munley a custom Digital Injury Summary (DIS), packaged with strategic visuals to convey every aspect of her client's injuries, surgeries, and brain damage. The presentation included:
Medical Illustrations to provide a graphic overview of injuries in accurately graphic detail.
Color Diagnostics to familiarize viewers with CT scans by colorizing damages over black-and-white films.
Diagnostic Slice Chooser to show the true depth of brain damage with 3D context.
Surgery Animations to demonstrate the step-by-step procedures required to address damages.
Ms. Munley showed up to mediation prepared with a visual presentation that demonstrated not only a solid foundation for damage claims - but that she was confident in her case, and prepared to take it in front of a jury.

The two defense teams agreed to settle for $3.8M, weeks before trial.
Exhibit A: Illustrated Damages
The first set of exhibits visualize the amount of pain and suffering the victim suffered as a result of the truck driver's negligence. Anchoring with a visual that shows what these injuries actually look like helps your audience understand what they mean, and why the victim deserves to be compensated.
Exhibit B: Animated Surgeries
Once we established what these injuries looked like, we needed to show how they were addressed, using animation to demonstrate the step-by-step surgical procedures the victim experienced.
Exhibit C: Color Diagnostics
Finally, we highlighted the victim's radiographic films to help make them more recognizable, understandable, and memorable for a jury - had this case made it that far. Color Diagnostics are a great way to add realism and familiarity to otherwise black-and-white, ambiguous imagery.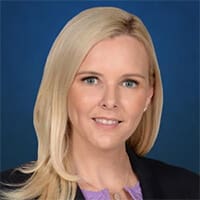 The matter settled at mediation for 3.8 million! I truly believe that the other side was blown away by the outstanding graphics prepared by your firm. Many thanks to everyone at High Impact for their hard work.
High Impact's team of visual strategists, artists and developers can build and customize your digital presentation for any case involving personal injury, medical malpractice, birth trauma - or any subject involving complex information.
Interested in working with us? Click here to get started. If you'd prefer, you can email us or call us at (800) 749 2184.