After a metal recycler working on an air conditioner fell 20 feet through an unprotected skylight located on top of a commercial building, he sustained a serious traumatic brain injury, nine fractured ribs, blunt chest trauma, blunt abdominal trauma, and multiple facial fractures.
Despite the fact that the building owner was advised years earlier about the dangerous and hidden condition of its skylights, the building owners never repaired or replaced the skylights, and never warned the worker of the danger.
Attorneys at Robinson Calcagnie, Inc., not only needed jurors to understand the rules governing premises liability in California - they wanted jurors to see the totality of their client's damages, suffering, and irreversible internal brain damage.
When injuries are too numerous or complex to show on traditional boards, we recommend the Digital Injury Summary (DIS). We built a custom DIS, equipped with:
The case resulted in a $2M verdict, using the following exhibits.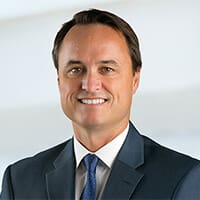 Thanks so much for all of your hard work and insights. The animation worked out awesome with the doctor at trial. We returned a $2M verdict. The animation was key.
Illustrated Injuries
The first section of the DIS illustrates the patient's long list of injuries, including skull fractures, rib fractures, and a giant scalp laceration. It displays a full-body view of the patient, alongside magnified windows that highlight labeled injuries in graphic detail, to provide jurors with full context of injuries.
Colorized Radiography
The next section highlights fractures in the patient's CT scans. Color helps make radiographic scans more recognizable, and understandable for jurors.
Diagnostic Slice Chooser
Brain injuries and underlying skull fractures can be difficult to explain, but our Diagnostic Slice Chooser® allows you to visualize the full depth of damage within a three-dimentional context. We captured CT Scans and MRI's at different levels of the skull and different dates, and layered them in a 3D illustration of the patient's head. Showing these radiographic scans within the context of the actual head helped jurors see and fully understand where these brain injuries and fractures occurred.
Animated Surgery
Finally, we concluded the presentation with a comprehensive surgery animation that walked jurors through an intracranial monitoring placement. Understanding the victim's entire experience and emphasizing the level of suffering beyond just his injuries anchored the case with a powerful visual jurors would remember in deliberation.
High Impact's team of visual strategists, artists and developers can build and customize your digital presentation for any case involving personal injury, medical malpractice, birth trauma - or any subject involving complex information.
Interested in working with us? Click here to get started. If you'd prefer, you can email us or call us at (800) 749 2184.