When a baby was born with cerebral palsy, Stuart Ratzan, Esq., Ratzan Law Group, needed to show the preeclampsia red flags that medical providers should have noticed days earlier in a pregnancy, and would have allowed the mother to be admitted to a high-level care facility that could have prevented permanent brain damage.
We created the following legal animations to help explain this complicated malpractice case to a jury, which helped Mr. Ratzan attain a $23M verdict for the victims - the largest civil county verdict in Charlotte County, FL, history.
Exhibit A: Introducing Preeclampsia
The first animation illustrates what preeclampsia actually is, how it leads to infant oxygen deprivation, and the signs and symptoms that should have been noticed and monitored by medical staff.
Exhibit B: Explaining Fetal Hypoxia
Once we anchored the jury's understanding of preeclampsia, the next step was to show how prolonged oxygen deprivation affected the fetus' brain, and the dangerous, avoidable conditions that resulted.
Exhibit C: Fetal Monitoring Evidence
The third animation explains how fetal monitoring works, and demonstrates the red flags that medical providers should have noticed, and could have addressed to prevent the resulting brain injury.
Exhibit D: Pulmonary Physiology
The fourth animation explains how an infant's lungs work, and how administering steroids much earlier in the pregnancy would have protected them from collapsing.
Exhibit E: Animated Brain Anatomy
The fifth exhibit visualizes the normal anatomy of the brain, how it works, and why it needs oxygen to survive.
Exhibit F: Premature Procedure
The fifth exhibit demonstrates how the misdiagnosis led to a dangerous medical procedure that further damaged the infant's lungs after birth.
Exhibit G: The Brain Injury
The sixth exhibit demonstrates how the stress from hypoxia and ischemia caused vessels to burst in the brain, which resulted in bleeding and irreversible brain damage.
Exhibit E: The Timeline
A strategic timeline illustrates when symptoms should have been noticed, the window of opportunity medical providers had to prevent the brain injury, and the point of no return - alongside a line graph showing the victim's blood pressure.
Exhibit F: The DigiStrip
The fetal heart monitoring strip, or tracing, is often the best piece of evidence in this type of case, but the physical strip can be difficult to present because it's often hundreds of feet long, with complex data that can be overwhelming and difficult to understand. Our DigiStrip ® lets you present any fetal heart strip/tracing within a virtual workspace where you can scroll backward and forward, skip to any point in time, highlight specific details using a set of drawing and annotation tools, and give experts the ability to customize their own presentation using saved annotations.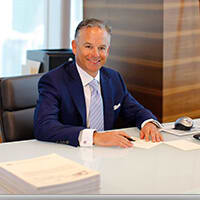 ​I wanted to let the High Impact Team know that the wide array of visuals you created in my recent case was instrumental in the jury returning a $23M verdict. Our case was a difficult brain damaged baby case involving the gross mismanagement of severe pre-eclampsia and the subsequent birth of a 26 week old premature infant. Without question, visiting your offices for a full day of consultation and theme development ensured that we could successfully anchor every aspect of our case with the right visuals. Armed with multiple MOI Animations, a DigiStrip, and a variety of timelines and custom graphics on boards, you worked with our experts to help us build an arsenal of mixed media that kept the defense on their heels the entire trial. From my experience, 'the other guys' are order takers while your team actually understands medicine and are visual strategists. I look forward to the next opportunity to work together.

Stuart N. Ratzan, Esq. - Miami, FL
The key to creating a winning visual presentation involved first carefully dissecting both sides strengths and weaknesses relating to the liability, causation and damages aspects of the case.
The client flew in for a day of brainstorming at High Impact HQ, where each aspect of the case was distilled down into themes from which a visual presentation strategy of how best to present these themes was determined. Other factors considered by the High Impact Team included the types of experts involved and their media preferences/comfort as well as which media types would most effectively anchor each theme.
In the end, the visual presentation strategy consisted of a large mixed media presentation made up of multiple exhibit boards, dynamic interactive digital media presentations and different animation segments. Essentially every aspect of the case had a visual anchor available that could explain that specific part of the case clearly and simply, while supporting the carefully derived strategic themes throughout the trial.
High Impact's team of visual strategists, artists and developers can build and customize your digital presentation for any case involving personal injury, medical malpractice, birth trauma - or any subject involving complex information.
Interested in working with us? Click here to get started. If you'd prefer, you can email us or call us at (800) 749 2184.