Spinal injuries are among our most common cases. Not only is the true reality of damage and suffering from these injuries extremely difficult to explain, symptoms frequently do not show themselves until days or even weeks after an accident. These types of injuries regularly go unreported in early medical records.
When a police cruiser ran a red light and smashed into the side of a family's vehicle, the husband suffered a severely disrupted spine with several disc bulges - but he didn't feel back pain until a week after the crash. Two months later, compressed nerves began shooting painful radiculopathy throughout his lower spine. He underwent a lumbar disc replacement after an MRI identified severe disc bulges, but the residual back pain continued to permeate through his lower back. His condition would require more surgery and long-term pain management.
The Defense argued his back pain was the result of "something he did at work," alleging that the onset of his symptoms coincided with his return to his job. They also argued his back pain was all degenerative, using medical records and testimony from a treating neurosurgeon.
Sevy Fisher, Esq., and Tom Feher, Esq., needed to show a jury why their client deserved major compensation for past and future pain, suffering, medications, and loss of earnings. We delivered the following exhibits:
Color Diagnostics to illustrate the undeniable radiographic proof of three major disc bulges, and the extreme pressure they forced on the plaintiff's spinal cord.
Surgery Illustration to break down the step-by-step experience the plaintiff went through to have a disc removed and replaced with a metal implant.
The Simon Law Group returned $1M for the husband's spine injury, and $1.5M for his wife's brain injury and facet syndrome. The $2.5M verdict would cover all expenses for past and future pain, suffering, medications, and loss of earnings.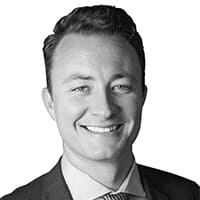 The visuals were instrumental in showing the jury the hell that was this surgery, especially the fact that the surgeon had to go in through the abdomen.

Sevy Fisher, Esq., The Simon Law Group
Exhibit A: Colorized MRI of Spine
The first exhibit highlights three major disc bulges along the plaintiff's lumbar spine from a sagittal (side) perspective. The second image shows the intense pressure these bulges forced on the spinal cord from an axial (top) perspective.
Color Diagnostics emphasize the reality of damages in MRI's and other radiographic films by adding color to otherwise black-and-white films, so that jurors can recognize and empathize with what's important.
Exhibit B: Illustrated Lumbar Spine Surgery
The next exhibit demonstrates the step-by-step procedure for an anterior diskectomy and total disk arthroplasty, which involved removing the patient's L-5-S1 disc and replacing it with a metal implant.
Surgery illustrations break down the most visually impactful steps of the surgery, to help give jurors a sense of the victim's complete experience.
High Impact's team of visual strategists, artists and developers can build and customize your digital presentation for any case involving personal injury, medical malpractice, birth trauma - or any subject involving complex information.
Interested in working with us? Click here to get started. If you'd prefer, you can email us or call us at (800) 749 2184.