A security guard would undergo five reconstructive surgeries before having her knee completely replaced after a metallic gate crushed her leg on a Hollywood movie set. Olivier Taillieu, Esq., needed a strategic visual presentation to convey the catastrophically painful knee injury and the long list of surgeries she would need as a result.
We built Mr. Taillieu a custom Digital Injury Summary programmed with the following exhibits:
Illustrated Injury Summary to establish the plaintiff's damages in a way that visually humanized her brutal experience.
Colorized X-Rays to familiarize jurors with radiography by highlighting injuries and metal implants over black-and-white films.
2D Animated Knee Surgeries to demonstrate the many reconstructive attempts that ultimately failed.
3D Animated Knee Replacement to anchor the jury's understanding of this traumatic conclusion with a highly accurate 3D representation of this complex procedure.
Treatment Calendar Board to visually stack up the enormous number of treatments the plaintiff would need over three years as a result of the injury.
The presentation helped Mr. Taillieu return a $2.5M verdict to compensate his client for her painfully difficult experience.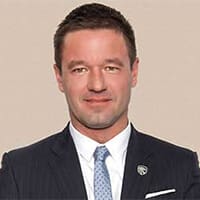 My understanding is that a $2.5M verdict for a knee replacement case is rare. High Impact, to me, maximized the potential recovery. I think seeing the extent of the surgeries and seeing what was involved in the surgeries really painted a good picture to the jury as to the extent of my clients injury - that it wasn't just a bad knee - that it was something far more involved than that.
Exhibit A: Illustrated Injury Summary
We first summarized the plaintiff's damages, which included a severe scalp laceration and contusion; a comminuted humeral fracture in her shoulder; and a viscously fractured knee.
The illustrations anchored each of the plaintiff's injuries with a disturbingly graphic visual that jurors would remember when deliberating damages. They also helped humanize the victim's injuries by enabling jurors to see and understand the brutal magnitude of her painful experience.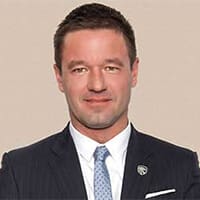 We wanted to show how much her life had been disrupted. It's one thing to talk about it, but it's another thing to really show, literally in vivid colors, what that looked like.
Exhibit B: Colorized X-Rays
Once we established a graphic summary of the plaintiff's injuries, we highlighted black-and-white X-ray scans in color to help jurors clearly see and identify the plaintiff's damages.
Radiography can often be difficult to comprehend. Colorizing the injuries with realistic illustration helped familiarize jurors with what they were seeing in these films while reinforcing the validity of the presentation with X-ray evidence.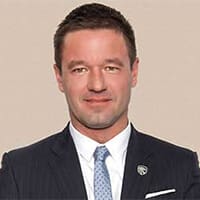 One of the things that I really appreciate about High Impact is the team of people that they have working behind the scenes. It's not just illustrators, but it's people who understand the medical terminology. People who understand post-op reports and can take those post-op reports and actually make graphics that are perfect. And when you show them to the doctors themselves, they're surprised at the quality of the work.
Exhibit C: 2D Animated Knee Surgery
After we established damages and grounded them in hard X-ray evidence, we needed to demonstrate the many surgeries the plaintiff underwent in an attempt to save her knee.
The animations simplified these complex procedures and showed jurors what each surgery looked like. Watching the exhaustive experience of having to undergo so many complicated, invasive surgeries also helped jurors see the human impact this injury had on the victim's personal life.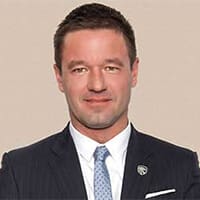 One of the problems we had in this case was we didn't have access to the surgeon who actually did the surgeries because of rules and requirements over at Keck USC. And so we weren't able to verify with him that these surgeries actually went the way that we were showing - until trial. When we showed him the animation of the surgeries in trial he was actually blown away by the quality of the representation.
Exhibit D: 3D Animated Knee Replacement
The tragic conclusion - after years of reconstructive surgery - would ultimately be the replacement of her knee with metal hardware that would exist in her body for the rest of her life.
3D animation is the most powerful way to impact your audience, and we highly recommend it for anchoring the most important themes of your case. This 3D animation visually anchored the final conclusion of the plaintiff's brutal experience - after years of painful reconstructive disappointment.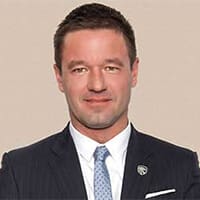 Investing in my clients with graphics from High Impact maximizes the potential recovery for them. It's an expense, obviously, but it's an expense that I think is necessary to fully tell their story.
Exhibit E: Treatment Calendar
In addition to surgery, the plaintiff would undergo more than 500 treatments over three years, which can stack up in monetary and time-consuming ways. Treatment Calendars are the most effective way to show what this enormous disruption in a plaintiff's life looks like.
Treatment Calendars literally stack up the number of times your client needed a treatment and can be especially strong when that number immediately spikes after an incident. It helps combat the opposition's claims that a condition existed before the injury and reinforces the amount of damage this injury caused for the victim.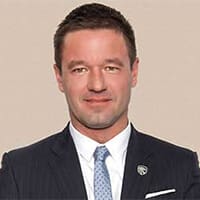 This one we did it on a foam board. We had this giant exhibit that we used in closing to show all the visits that my client had gone through to get to where she was today. When we spread it out over the course of three years we had this enormous board, and the jury really just ate it up.
High Impact's team of visual strategists, artists and developers can build and customize your digital presentation for any case involving personal injury, medical malpractice, birth trauma - or any subject involving complex information.
Interested in working with us? Click here to get started. If you'd prefer, you can email us or call us at (800) 749 2184.