Olivier Taillieu, Esq., returned a $1.13M verdict to a middle-aged man who suffered a severe neck injury after being struck by a semi-truck.
The Plaintiff's injury would require a C5-7 anterior cervical discectomy and artificial disc replacement, and Mr. Taillieu needed to show jurors what those procedures entailed. He tasked High Impact with animating his client's surgical experience.
Spine injuries are among our most common cases. While it may be difficult to comprehend the vicious pain suffered by this underlying injury, animation proves effective at helping jurors not only see how the spine was damaged but also understand the totality of a victim's experience as they're cut open in surgery and have part of their spine surgically replaced.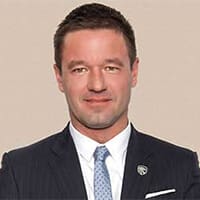 One of the things that I really appreciate about High Impact is the team of people that they have working behind the scenes. It's not just illustrators, but it's people that understand the medical terminology. It's people who understand anatomy and how things actually work. People who understand post-op reports and can take those post-op reports and actually make graphics that are perfect. And when you show them to the doctors themselves, they're surprised at the quality of the work based on the representations in the graphics.

Olivier Taillieu, Esq., The Dominguez Firm, Inc., Los Angeles, CA
High Impact's team of visual strategists, artists and developers can build and customize your digital presentation for any case involving personal injury, medical malpractice, birth trauma - or any subject involving complex information.
Interested in working with us? Click here to get started. If you'd prefer, you can email us or call us at (800) 749 2184.